De quoi danser tout l'été !
Avec les Hits de Gulli 2019, retrouve tous tes hits du moment en 3 CD !
Angèle, Gims, Dadju, Vegedream, Clara Luciani… tout pour t'éclater avec tes copains et faire la fête !
CD1
1. Angele, Balance ton quoi
2. M. Pokora, Les planetes
3. Sam Smith & Normani, Dancing with a stranger
4. Imagine Dragons, Bad liar
5. Kendji Girac & Claudio Capeo, Que dieu me pardonne
6. Jonas Brothers, Sucker
7. Jenifer, Notre idylle
8. Ariana Grande, 7 rings
9. Mabel, Don't Call Me Up
10. Lewis Capaldi, Someone you loved
11. Dermot Kennedy, Power over me
12. Clara Luciani, Nue
13. Bigflo & Oli, Sur la lune
14. Vegedream feat Dadju, Calimero
15. Keen' V feat. Ajnin, Laisse-les parler
16. Meduza, Piece of your Heart
17. Robin Schulz, Speechless
18. Feder, Control
19. Jax Jones, Martin Solveig & Madison Beer, All day and night
20. Marshmello feat. Chvrches, Here with me
CD2
1. Angele et Romeo Elvis, Tout oublier
2. Alan Walker, Different World
3. Kygo feat. Sandro Cavazza, Happy Now
4. Lil Peep & XXXtentacion, Falling Down
5. Jain, Oh man
6. Calvin Harris & Sa... Promises
7. George Ezra, Hold my girl
8. Amir, Longtemps
9. Dean Lewis, Be alright
10. Slimane, Nous deux
11. Franglish, Mama
12. Eva, Bella
13. Dante, Ca va aller
14. Angelina, maman me dit
15. Les petites canailles, Fais pas si fais pas ça
16. Keanu Silva, King of my castle
17. Armin Van Buuren, Turn it up
18. Mathieu Koss & Aloe Blacc, Never growing up
19. Ofenbach feat. Ben... Paradise
20. Jonas Blue, Polaroid
CD3
1. Lynda feat Dadju, Adieu
2. Eva feat. Lartiste, On fleek
3. Keen'V, J'courais
4. Vegedream, Ramenez la coupe à la maison
5. SOUF, Ca c'est fait
6. FRANGLISH Feat.Vitaa, OUI CA VA
7. Dj Sem, Jeans & Baskets
8. Martin Garrix, High On Life
9. Vincé, Complicado
10. Zayn, There You Are
11. Boulevard des Airs... Tout le temps
12. Bebe Rexha, I'm a Mess
13. Collectif métissé , C'est quoi le bonheur
14. La synesia, Diego
15. Patrick Fiori, Les gens qu'on aime
16. Hyphen Hyphen feat. Kiiara, Lonely baby
17. Gaullin, Moonlight
18. Marnik & Smack, Gam gam
19. Roman Kouder, Made Up
20. French fuse, Keep going
Un max de tubes !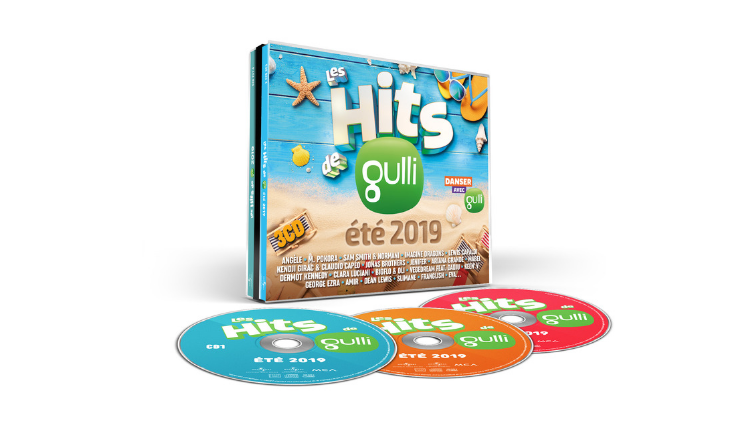 Encore plus de Produits Gulli